Build Your Own Clay (BYOC)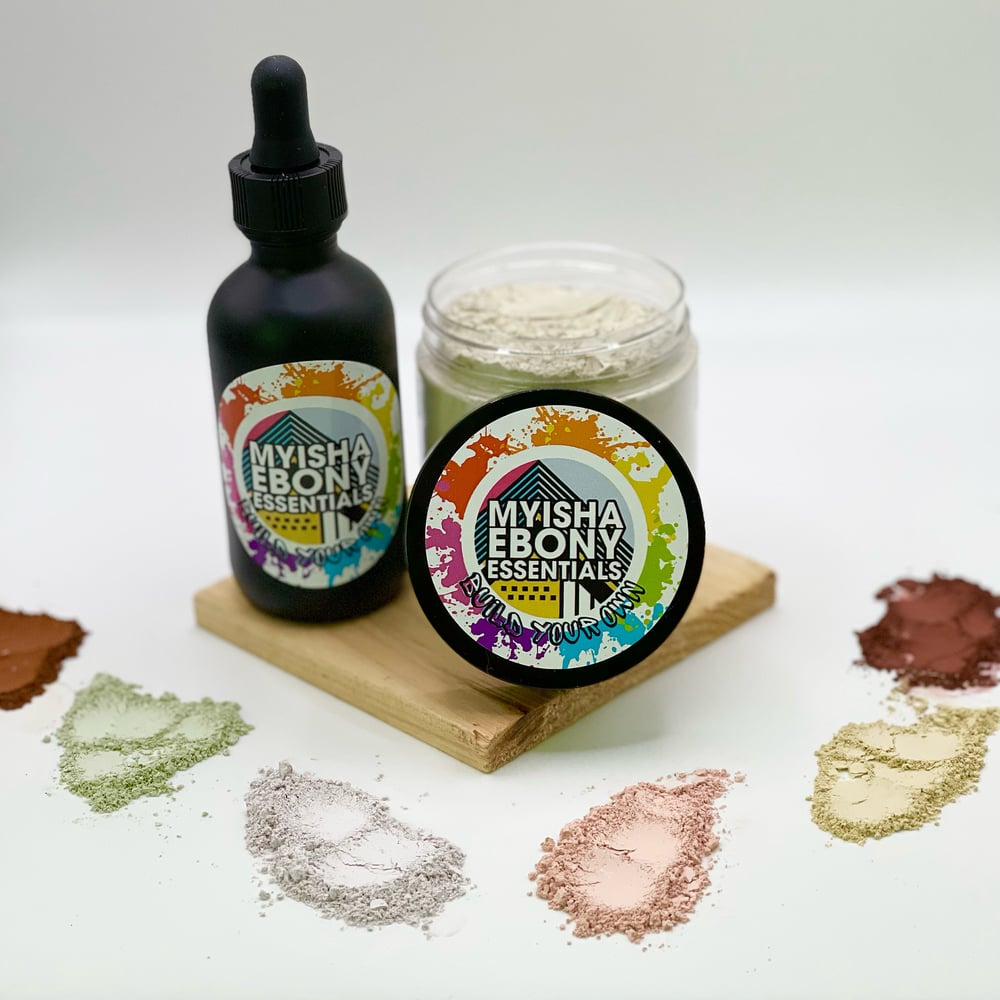 Build your own clay tailored to your hair/skin. Comes with 4oz container of clay/powder & 2oz bottle of oil. Please be aware that all build your own products get shipped out on Fridays only.
***Important: Before checking out make sure to leave a note selecting your choices of the following:
-Bentonite as base clay
-3 additional clays/powders (1 scoop each)
-4 different oils (1 base & 3 pairing oils)
Available clays/powders & their use/benefits:
-Activated charcoal: adds volume & bounce, deep cleanse, & removes impurities.
-Aloe vera powder: strengthens hair, helps prevent hair from being greasy, prevents itchiness, protects from uv damage, & promotes hair growth.
-Amla powder: conditions scalp, promotes hair growth, hydrates, minimizes grays, boost volume, reduces dandruff, & treats head lice.
-Bentonite clay: Deeply cleanses scalp, removes dead skin cells & toxins, strengthens hair & prevents hair loss, & can offer deep moisture.
-Brazilian clay (purple & yellow): removes impurities, promotes skin & hair balance w/out dehydrating, anti-aging, & hair cuticle repair.
-Dead Sea mud: strengthens hair & cuticle, moisturizes dry or damaged hair, promotes hair growth, reduces inflammation, adds shine, & combats dandruff.
-French clay (pink & green): remove product build-up, eliminates dandruff, removes excess oil w/out stripping natural necessary oils, & stimulates growth.
-Kaolin clay (pink & yellow): helps calm & cleanse scalp, balances oil production, & helps smooth damaged hair, also absorbs dirt & residue left behind.
-Moroccan red clay: helps make hair soft, shiny, & manageable, detoxifies, exfoliates dead skin cells, deep cleanse, & eliminates dandruff.
-Multani Mitti Powder (Fuller's Earth): helps remove eczema, dandruff, itchiness excess oil, dirt & product buildup, promotes hair growth, strengthens hair, & keeps scalp hydrated.
-Colloidal Oatmeal: promotes hair growth, prevents split ends, treats dandruff, soothes inflammation, soothes dry & itchy scalp.
-Rhassoul clay: Helps exfoliate, adds shine, cleanses impurities, eliminates oil buildup, conditions hair, & adds volume.
Available oils:
-Almond, argan, avocado, babassu, brazil nut, castor, cedar wood, coconut, emu, eucalyptus, grape seed, jojoba, kukui, lavender, lemongrass, macadamia, mamay sapote, maracuja, marula, olive, orange, palm, patchouli, peppermint, rice bran, sea buckthorn, sunflower, tamanu, tea tree, thyme, vitamin E.
Please pay attention to your emails in case I have questions! If you have any questions feel free to message me through email or IG: @MyishaEbonyEssentials (quickest response time.) Thank you & Let's Build!